Connecting People TO Paintball
Paintball Promos sells passes that make it cheaper for you to experience paintball at different paintball parks across the US and Canada.
This assumes you have purchased Paintball Promos Passes from Groupon or Living Social.
What's INCLUDED WITH OUR PASSES:
Safety / Game Instructions
A minimum purchase of 500 paintballs* and Air must be purchased by each player at participating facility at the time of play.

Prices for paintballs and/or air vary between fields.

Paintballs must be purchased at facility.

( * – Some parks may require less paintballs )
Our passes are very cost effective! The more you buy, the less they cost.
3 WAYS TO REDEEM VOUCHER & GET YOUR PASSES: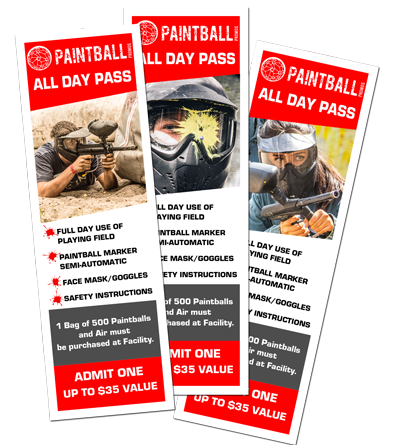 1. Physical Tickets by Mail 
Great as a gift

No expiration date

Allow up to 5 business days to receive via mail ( 6-10 days for Canada )

Mailed out on next business day

Excellent option if not planning to use right away

Constant reminder you need to play paintball!

FREE SHIPPING!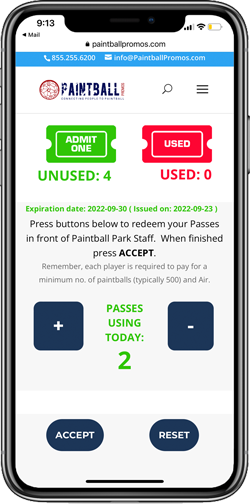 Excellent choice if planning on using tickets within a week

Takes 1 business day to send out by email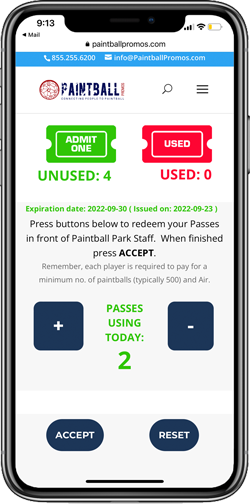 Preferred method if wanting to play as soon as possible

May be used as soon as same day, depending on specific park policies

Call us at 855.255.6200 to explore using this method.
1. Physical Tickets by mail
Usually take 3-5 Business days* to send first class thru US mail. FREE SHIPPING! Best option as a gift plus they never expire!  Please provide the following:
( Note: If redeeming multiple vouchers refresh the page between redemptions.  * 6 – 10 days if mailing to Canada )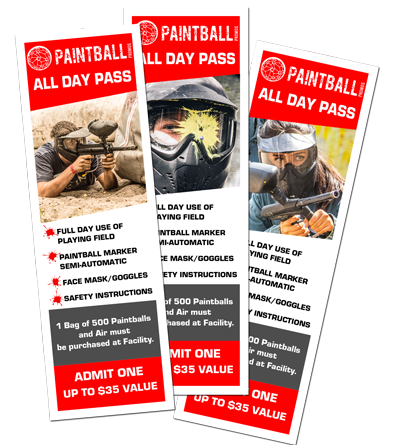 Any Questions? Call us, 24/7: 

855.255.6200
2. Email Passes
May be used the same day you receive your passes, usually within 24 hours. ( Check restrictions for specific park on our Participating Park list. )  Please fill out the following to get your passes emailed to you:
( Note: If redeeming multiple vouchers refresh the page between redemptions. Passes sent by text or email expire in 7 days, except for Canadian passes, which do not expire)
Customer Information: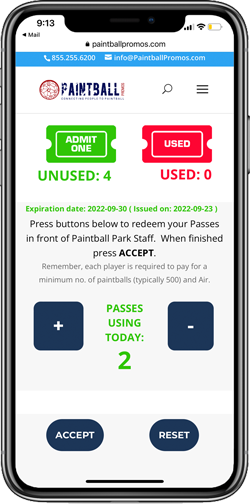 Any Questions? Call us: 

855.255.6200
You can also Buy Passes Directly from us